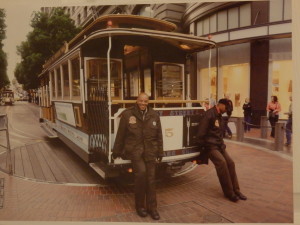 Ahh!! The world's last manually operated cable car- a staple in the city of San Francisco. This dying breed had its genesis in 1873 after Andrew Smith Hallidie witnessed a terrible accident involving San Francisco's notoriously steep hills, horse drawn carriages and too much weight.
Hallidie was a failed gold miner who cheated death on more than one occasion. He was reportedly caught in the midst of a forest fire, fell 25 feet from a suspension bridge, attacked by a band of Mexicans, lived through a blast in a shaft at the end of a 600 foot tunnel, and was the passenger in a runaway horse drawn stagecoach.  Yes he needed a change of luck!! But he was brilliant- he built his first wire suspension bridge at nineteen. But back to the trains!
After the horse tragedy in 1869, he immediately started the process to design and build the cable car.  The first cable car system was the Clay street line which made its debut in 1873 and cost $85,000 to build.  The bodies of these exquisite works of art are hand worked over the course of 18-24 months by carpenters using oak, Alaskan spruce covered in canvas, iron, steel and highly polished brass.  Its operators or Gripmen gained their unique name from the fact that at the "turnable" they literally have to grip the car and use their body weight to turn it around.  In 2010 they had their 2nd woman cable car operator and change the name to to grip person.
Unfortunately cable cars are becoming a rarity; San Francisco has less than 44 operational today a far cry from the 600+ at the turn of the 19th century.   The cars operate 7 days a week and you can indulge in Hallidie's handiwork for $5.